NMB Splice Sleeve Systems
What is the NMB Splice Sleeve System?
The NMB Splice Sleeve System is a steel deformed reinforcing bar connection system consisting of a cylindrical ductile iron casting sleeve and a special high-strength, non-shrink filler material, SS Mortar (Grout). The Deformed reinforcing bars to be spliced are inserted into the NMB Splice Sleeve to meet approximately at the center of the sleeve, then the interior of the splice sleeve containing the reinforcing bars is filled with SS Mortar (Grout). Both the sleeve and the grout are specially made under our own design and quality-controlled production process to ensure the highest quality and performance at the jobsite.
The resulting splices have strengths above the specified strength of deformed reinforcing bars and conform to the various building code requirements for any rebar splices around the world.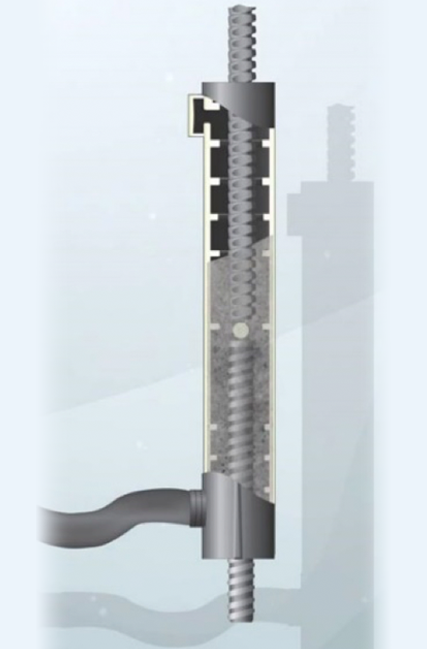 The NMB Splice Sleeve was born in the late 1960s and first utilized in the precast concrete construction of a 38-story Ala Moana hotel in Honolulu, Hawaii. Since then, the application has been utilized in a variety of applications, from a single home to the skyscrapers, and from infrastructure to clean energy facilities. The NMB System has withstood four strong earthquakes (Mw 6.9, 7.0, 7.8, and 9.0) with no structural damage, saving many lives as a result.